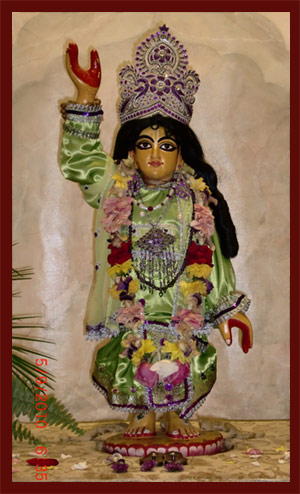 shravana yugala-lolat kuntal-hāra-vakshāh,
sfuratu hridaya-madhye gourachandro natendrah." 61.
Meaning –   Sri Gourachandra's lustrous hair is tied with various gem-studded garlands, His smooth and wide forehead is adorned with chandan-tilak, His thick wavy locks are swaying seductively, His ears don makar-kundal, and a gold necklace is oscillating on the expanse of His chest. May That Divine Lover-boy, the Chief of Dancers reveal Himself in my heart ! 61.
"yadavadhi harināma prādurāsit prithivyām,
tadavadhi khalu lokā vaishnavāh sarvatrate.
tilaka vimala-mālā nāma-yuktā pavitrā,
hari hari kali-madhye evam-evam vabhuva." 62.
Meaning –  Ever since Sri Harinām Prabhu has appeared in this world, everyone has become a Vasihanv. Mankind has become pure by donning tilak and taking up Harinām-beads. Hari ! Hari ! May such surprising incident occur again and again in this Kaliyug ! 62.
"jive purna dayā yatah karunayā h aha ravai prārthanām,
he he krishna kripānidhe ! bhava mahādāvāgni dagdhān janān.
trāhi trāhi mahāprabho ! swa-kripayā bhaktim nijām dehyam,
naivam gourahareh sadā prakurute dinaika-nāthh prabhuh." 63.
Meaning –  Sri Gourachandra is manifesting absolute kripā for the Kaliyug-afflicted beings. He is praying in all earnestness, "O Krishna ! O Ocean of mercy ! Please protect all these jivas who are burning in this enormous fire of the material world ! O Mahaprabhu ! Please have mercy on them and give them your secret treasure called Prem-Bhakti." Sri Gourahari Shachinandan, is the only shelter of the miserable, the only Patita-pāvan who can pray in this manner. 63.
"vishanna chittān kali-pāpa bheetān,
samvikshya gouro harināma mantram.
swayam dadou bhaktajanān samādishet,
kurusva sankirtana-nritya vādyān." 64.
Meaning –  When Sri Shachinandan Gourahari saw the immense misery of the   Kaliyug-afflicted beings, and how  they  were frightened and steeped in sin, He directly gave the Harinām Mahamantra, and then He taught His devotees to sing, dance and how to play the musical instruments  accompanying the  Harinām sankirtan. 64.
"harer-murtim suru-pāngām tribhanga madhura-ākritim,
iti gouro vaded-bhaktān sthāpayaswa grihe grihe."  65.
Meaning –  Sri Gourāngasundar is telling His surrendered devotees, "You install  beautiful Sri Krishna Deities in extremely sweet tribhanga pose, in each and every home and spread His worship.". 65.
"sushona-padma-patrākshah subimba-adhara-pallavaih,
sunāsā puta-lālitya gourachandram namastute" . 66.
Meaning –  Sri Gourachandra's eyes are beautiful like the pink lotus, His bimba like lips are extremely captivating, His nose is exceptionally sweet – I pay obeisance to That gorgeous and exquisite Sri Gourachandra. 66. Read the rest of this entry »